Mhdb concept German

'Mozart has the blues' (Mhdb = abbreviation, 'Mozart has the blues' = 'Mozart hat den blues', English translation), Kassel (Germany), is an avant-garde jazz & absurd rock band. Mhdb present themselves mainly on the Mhdb sessions and videos. Mhdb's publications such as 'Mozart had the Blues' analyze the band, the theory & history of drums, as well as urban music, urban culture & development. The virtual Mhdb twin, Bambulete, performs the self-created 43 Mhdb songs (the Mhdb standards) in a largely atonal & percussive style; exceptionally live: drumming tips, quarantine solo project.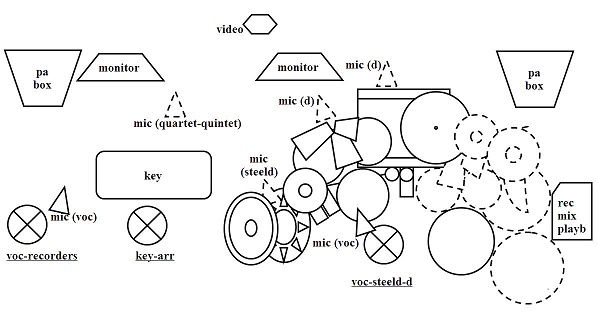 Mhdb stage plan
Mhdb have never had the ambition to be famous, but simply to develop their own music. Mhdb have frequently been in the recording studio and in the headlines, without ever wanting to launch into album sales or live from the past, e.g. by preserving their music in audio or video recordings. For Mhdb, recordings are only used as a means of documenting musical development, in particular, their own development as embedded in the context of local, regional and global trends.
The consumption of jazz - at least, Mhdb jazz - already takes place at the moment of its genesis. The production and consumption of jazz coincide. Recordings (videos and audios, or MP4 and MP3, etc, whether recorded live or in the studio) merely capture the moments. Similar or identical-sounding recordings at most have only a similar or identical-sounding framework, while within this framework they are actually quite different.
When J. S. Bach (1685-1750) had a musical inspiration, he would immediately sit down and compose something new, whereas Mhdb still integrate a new discovery into one of the existing 43 Mhdb songs.
Such influences, whether classical or popular, are not copied or 'covered' by Mhdb, but processed or tested out and integrated into the Mhdb concept; for example: the tritone in the 'new music'; or Blackberry Smoke's contribution to the renaissance of live music.

Over some 20 years (approx. 1990-2010) Mhdb ha

ve

created a repertoire of 43 own songs

,

which have been interpreted by

T

he Mhdb Session Trio as 'Mhdb standards'

on the Mhdb sessions a

nd which

were

fully documented

as

live video

s on YouTube

in

201

6

.

As the basis for this interpretation and documentation, the 43 Mhdb songs or standards have been available since 2010 in a computer-generated version, approximately two thirds of which have German spoken lyrics,

that

could also be

spoken

in English

or be

sung

. A

round one third

is

purely instrumental.

The live songs by Mhdb, which have evolved since around 1990, were systematically

digitally

reworked in the Mhdb style between 2005-10, and have since been available as a computer-generated Mhdb real book containing standards

,

which are used for the Mhdb sessions.

With these digital song versions, Mhdb ha

ve

also been establishing

them

sel

ves

since 2008 as a virtual band in the Internet charts, for instance at SoundClick.com.

From October 2017 to April

2018, these MP3s

on SoundClick.com

were updated and completed

.

Since 2016, a

raw and simple live video, as actually played by a band - in this case:

Mhdb

-

, of all the 43 Mhdb songs has been available on You

T

ube.

The Mhdb videos are kept up-to-date by replacing an old one with a new one.

Right now the

Mhdb style

could be described as similar to

b

oogie

w

oogie. However, due to the spoken lyrics and keyboard-drums accompaniment it could also be placed between

r

ap &

g

ospel, or even

a

vant

-

garde

j

azz &

m

etal or

a

lternative

r

ock, based e.g. on the nuances in tone, the many irregular, hard rhythms or the attractive recorder

s

sound. Nevertheless, the Mhdb style may well change again completely as time goes on.

The Mhdb

melodies

and chords are based on

American-European influences,

particularly on

m

odern

j

azz, but also have links to

r

&

b

/

r

ap

/h

ip

h

op or

m

etal/

a

lternative

r

ock

: a total of more than 230 years of influences (1787-2022)

The Mhdb lyrics

(for example: "KarlMaxShuffle", below) deal with the often grotesque everyday life

in contemporary Germany, but reflect more and more

global developmental differences between the global megacities and historical metropolises.
Bambulete -

a virtual percussion group

,

established in

2010

-

also

p

erform

s the 43 Mhdb songs or standards with German spoken lyrics,

but

in a largely

atonal & percussive

style,

as well as entirely computer-generated (also live since 2020:

Quarantine solo project)

The Mhdb publications record and analyze the musical material

,

that has evolved during the several decades of

Mhdb's prehistory and history

and is embedded in a local, regional or global context.

Finally, in

the Mhdb session

s the Mhdb live

trio or band

in turn empirically reinterpret the theory derived from the analyses made in the publications. In this way, the computer-generated Mhdb repertoire continues to evolve.

Hence, the Mhdb sessions, the virtual and live Mhdb band

or trio

, Bambulete and the Mhdb publications all form part of one whole concept and are closely interlinked and interdependent.

The corona crisis led to the interruption of the Mhdb sessions and recordings as well as to the quarantine solo project (Bambulete live). Online band sessions did not work or were too complicated (test).
Post-covid sessions (requirement: low covid risk). Latest sessions (usually now from the Mhdb studio): YouTube uploads

Prehistory and history of Mhdb date back to 1964. The Esquires, for example, a Berlin-based

b

eat band which existed from 1964-67, was the 2nd of 20 pre-Mhdb & Mhdb bands, and was the first semi-professional band of the Mhdb founder & drummer (Wolfgang Billmann).
The whole Mhdb story (approx. 1960-), theoretical background (texts, arrangements, melodies, chords, measures), and the 20 pre-Mhdb & Mhdb bands: "Mozart had the Blues, The theory, history & prehistory of 'Mozart has the blues' (Mhdb) - or: an amateur drummer's autobiography". By Wolfgang Billmann, Kassel, Germany, 2015 (updated from time to time, 1st ed. 1997), password via mozarthatdenblues@gmail.com