Billmann-Berlin, Berlin-Zehlendorf, 1950s German
Wolfgang Billmann (1947-, voc, steeld, d, urban planning, ...)
Ralph Billmann (1949-2019, p, org, comp, architecture, ...)
Evi Billmann (1953-2022, voc, as, cong, landscape planning, ...)
...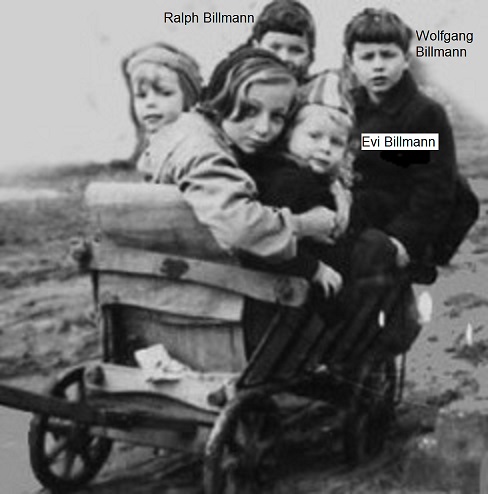 Memories (maps, photos, videos ...) :
1956-57:
. Chuck Berry (voc, g), "Roll Over Beethoven"
. Fats Domino, (voc, p), "Blueberry Hill"
. Sonny James (voc), "Young Love"
. Elvis Presley (voc), "Hound Dog"
. Louis Prima (voc), "Buona Sera"
. Johnnie Ray (voc), "Just Walking In The Rain", "Yes Tonight Josephine"
. Little Richard (voc), "Tutti Frutti"

1958:
. Chuck Berry (voc, g), "Sweet Little Sixteen"
. Eddie Cochran (voc, g), "Come On Everybody", "Summertime Blues"
. Jerry Lee Lewis (voc, p), "High School Confidential"
. Thelonious Monk (p): "Blue Monk"
. The Coasters, "Yakety Yak"
. Ritchie Valens (voc), "Donna", "La Bamba"

1959:
. Paul Anka (voc), "I'm Just A Lonely Boy"
. Dave Brubeck (p), "Take Five"
. Freddy Cannon (voc), "Tallahassee Lassie"
. Dave Baby Cortez (org), "The Happy Organ"
. Don Gibson (voc), "Sea Of Heartbreak"
. Frankie Ford (voc), "Sea Cruise"
. Johnny & The Hurricanes, "Buckeye", "Red River Rock"
. Papa Bue's Viking Jazzband, "Schlafe Mein Prinzchen" (not via AFN)
. Phil Phillips (voc), "Sea Of Love"
. The Coasters, "Charlie Brown"
. Sarah Vaughan (voc), "Broken-Hearted Melody"
Re: the post-war period.
' On April 22, 1945, the 1st Ukrainian Front under Marshal Konev prepared to overcome the Teltow Canal in a broad front. After the failure of a first attack in the area of Lichterfelde, the first bridgehead was won on April 24, 1945 (1) at the Fritz-Schweitzer-Bridge, and the Soviet tanks reached Zehlendorf Sued at noon. ' ( https://www.berlin.de/ba-steglitz-zehlendorf/ueber-den-bezirk/historisches/artikel.14440.php, January 2023 ).
On the back side of the property at Ladiusstrasse 5, where the Billmanns lived around 1949-53, according to recollection, there was a fallow area with an abandoned trench system.
And during kindergarten walks, there were many pits in the Heinrich-Laehr-Park that meanwhile were covered with leaves. (2)
All children were forbidden by parents and kindergarten teachers to play there.
In 1952 the external border (West Berlin - GDR) was closed.
Until then, people from Zehlendorf could buy something in Teltow, for example a wooden toy bus for the Billmann children, and only had border controls on the Knesebeck bridge *.
Where did they come from?
Parents, grandparents
Paternal line
Maternal line

Berlin ≈ 1935-2015
Bad Polzin / Polczyn-Zdroj ≈ 1910-45
Osterode (Ostpreussen) / Ostroda ≈ 1880-1910
East & West Prussia, Posen, Poland, Schweden, Seven Years War (1756-63) / Prusy Wschodnie i Zachodnie, Poznan, Polska, Szwecja, Wojna Siedmioletnia (1756-63). 18th - 19th century / XVIII - XIX wiek ?
...
____
(1)
- Joerg Volker Dietrich, Kinder der Goerzbahn, 2020, p. 6, https://books.google.de/books?id=lwPtDwAAQBAJ&pg=PA6&hl=de&source=gbs_toc_r&cad=3#v=onepage&q&f=false
- https://en.wikipedia.org/wiki/Battle_of_Berlin
(2)
Kindergarten (in hospital & rest home): early 1950s, then closed
(3)
https://m.facebook.com/stadtpirmasens/photos/dem-tanzlehrer-leonhard-billmann-war-es-noch-1937-geradezu-peinlich-dass-man-ihn/948201048573207/:
- Correction (also for Internet users without a Facebook account) : https://www.mozart-hat-den-blues.de/Pirmasens.jpg (screenshot)